-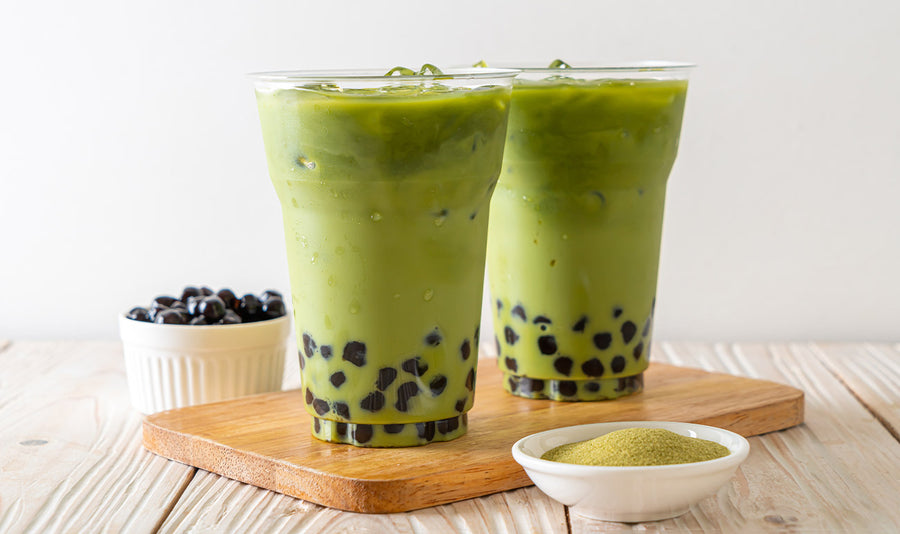 Low-Sugar Matcha Bubble Tea
Turn your Bubble Tea into Matcha Bubble Tea in just a few simple steps. Sweet, earthy, and a great alternative to a matcha latte - perfect for those sunny summer days.
Find out more - What Is Bubble Tea?
Serves 1 person
Makes In 40 mins
Difficulty Easy
Ingredients
32g · Dried Boba Tapioca Pearls
1 tsp · Twinings Matcha Powder
200ml · Dairy-free milk (we used oat milk)
1 tbsp · Honey or agave nectar
Water
Method
Measure 480 ml of water for every 32 grams of Boba. Bring the water to a boil over high heat.
Add the Boba and stir gently until the pearls begin floating to the top of the water. Lower the heat and cook the Boba for 12-15 minutes. Remove the pan from heat, cover, and let the pearls sit for another 12-15 minutes. Or use quick-cook tapioca pearls and follow the instructions on the packet.
Whilst the Boba is cooking, make your matcha tea.
Add the matcha powder, honey or maple syrup and teaspoon of water to a cup and whisk into a paste.
Add the milk to a frother or whisk.
Gently pour onto your matcha paste and leave to cool.
Once the Boba has finished cooking, drain it and put it in a bowl. Pour a tablespoon of honey and mix the Boba until coated with honey.
Let it sit until the Boba is at room temperature, at least 15 minutes, or refrigerate until ready to use. Boba is best if used within a few hours of cooking but will keep refrigerated for several days. The Boba will gradually harden and become crunchy as they sit.
Pour the matcha tea into a tall glass, add the Boba, and stir. Finally, you can add a teaspoon more of honey to taste.
Enjoy!
Types of Tea in Bubble Tea