-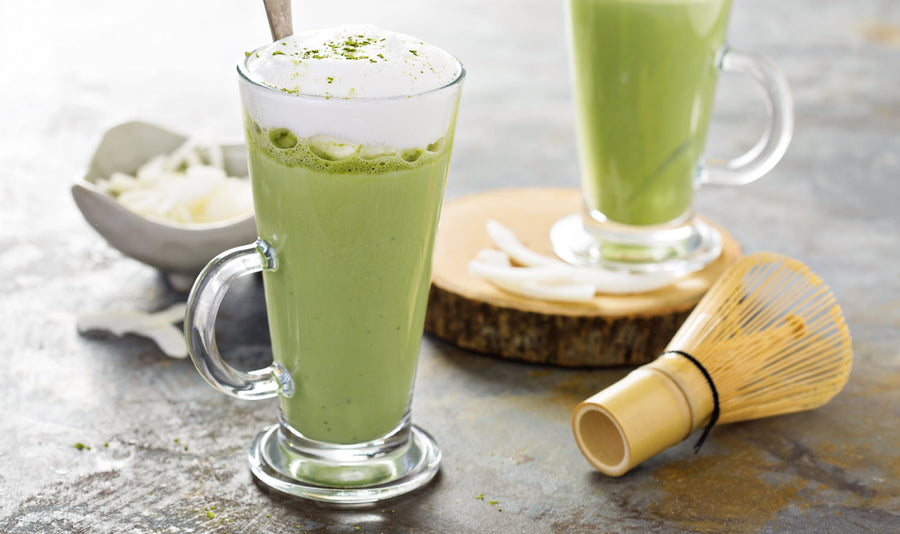 Matcha Powder Latte
A creamy, delicious and rich latte that's packed full of antioxidants. Super simple to make, this matcha powder latte is the perfect antidote to a busy day.
Serves 1 Person
Makes In 2 mins
Difficulty Easy
Ingredients
1 tsp · Matcha Green Tea Powder
1 tsp · Boiling water
1 tsp · Honey or maple syrup
250ml · Dairy-free milk (we used oat milk)
Method
Create your own barista-style matcha latte in minutes. This deliciously creamy latte is packed full of antioxidants and is the perfect antidote to a busy and stressful day.

A sweet matcha latte is a great alternative to a classic espresso. Replacing your sharp shot of caffeine with this luscious green tea powder that's brimming with benefits. In essence, matcha is the finely ground powder of green tea leaves (young tea leaves) and his high in antioxidants. In fact, studies have found it has up to 137 times more catechins, a compound in tea that acts as a natural antioxidant.

Use dairy-free milk to create a vegan latte and savour its soothing and calming effects.
Add the matcha powder, sweetener and teaspoon of water to a cup and mix into a paste.
Heat the milk in a saucepan until it's piping hot.
If you want to create a frothy latte, add the milk to a frother or whisk (oat milk makes for the best froth out of all the dairy-free milks!)
Gently pour onto your matcha paste.
Feeling extra fancy? Style your frothy milk for that ultimate barista-inspired latte.
Fancy an iced matcha latte? Swap hot milk for cold milk and just add ice! Refreshing.